Buwathay Munyarryun, a Wangurri clan leader from Dhalinybuy, crafted this month's featured yidaki in 2006. It's warm and bassy, but still crisp. It has a nice, resonant trumpeted note. It is light weight despite having good bass and power. All in all, it's a fantastic stick. Let's give the late, great Milkay Munuŋgurr the first play.

Stats:
E drone • F first trumpeted note
159cm long • 2.8cm mouthpiece • 9.2cm bell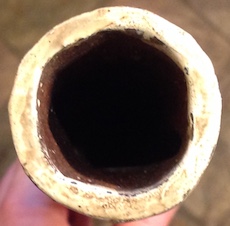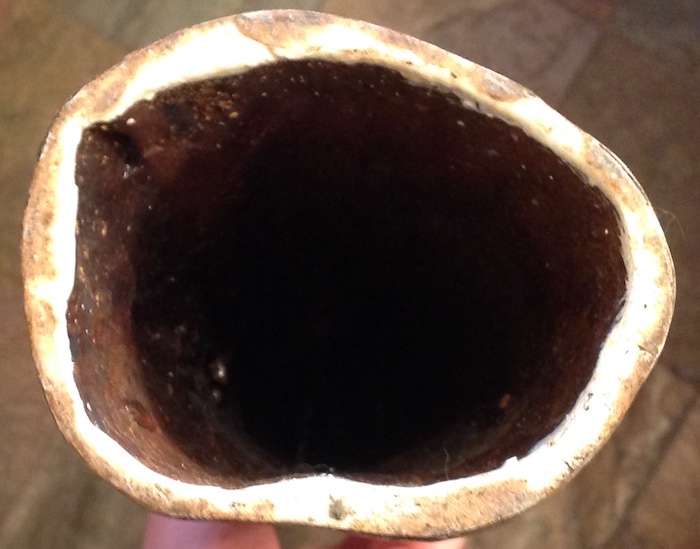 Djalu' plays it here. This clip has been on our YouTube channel for a while.
The next video, however, is new. It shows what happened immediately before the above clip. Djalu' and I were playing and discussing all the yidaki I collected during my first two years living in northeast Arnhem Land. He of course could play everything but didn't prefer all the tight, high pressure and high-pitched instruments made by the hot young players of the day. Buwathay's yidaki, on the other hand, has just the right depth, warmth and mid-level back pressure that Djalu' likes. You will see him compare it to his own favorite yidaki of the moment. As he says in the video, it allows him to breath naturally. He often advocates for instruments like this, claiming that playing them is better for your health.
When I later asked him to play for a closeup, so we could see and hear him breathe while he played, Djalu' asked to play Buwathay's yidaki again. This clip also appears in The Dhäwu at http://yidakistory.com/dhawu/playing-the-didjeriduyidaki/breathing/.
Now we turn the mic over to the artist, himself. In 2006, I sat with Buwathay, Ŋoŋu, the late Mirrwatŋa and the late Mathuḻu, discussing yidaki and interaction between the Yolŋu and outside worlds. In the midst of a discussion of what kind of stories to share with didgeridoo players around the world, Buwathay suddenly pointed to this yidaki he made and gave a simple, surface level but true story of its meaning.
In the next video, Buwathay's younger brother, the late Mirrwatŋa, plays the yidaki and then everyone briefly discusses how good it is. It is usable for any ceremony. Most interestingly, Buwathay himself points out what Djalu' did. Even though this is a thin-walled, light weight instrument, it has the same characteristics as Djalu's normally heavier instruments. It has the sound of what Yolŋu nowadays call a "bass yiḏaki."
You can also hear this yiḏaki on a few tracks of the Yilpara CD, which I'll blog about soon.
Last, I'll let you hear a white guy play it. Here I am a couple of months ago, playing this one as part of my "Didjeridu of the Day" series on Instagram.
PREVIOUS YIDAKI OF THE MONTH:
#1, July 2017, by Djakanŋu Yunupiŋu
#2, August 2017, by Milkayŋu Munuŋgurr
#3, September 2017, by Djalu' Gurruwiwi
#4, October 2017, by Burrŋupurrŋu Wunuŋmurra
#5, November 2017, by Baḏikupa Gurruwiwi