Last week I traveled to Los Angeles for a rare opportunity to reconnect with some Yolŋu friends, Wukuṉ Waṉambi and Yinimala Gumana. They just reached the last stop of a 4-week trip to the United States to work with the Kluge-Ruhe Aboriginal Art Collection. Mostly, I wanted to see them and learn about the project they're working on, but I also thought it would be a good opportunity to get them on video for a post on this new blog. Perhaps they would answer some questions from the web. Perhaps Wukuṉ would follow up on his comments quoted in my first post.
On arrival, I quickly decided to let that go and just hang out with them. They had been away from home for a long time, constantly traveling, performing, being poked and prodded and questioned, everywhere from the Smithsonian to the Getty. Yinimala had never been outside of Australia before, so nearly a month on a coast-to-coast USA trip must have been overwhelming. They met countless strangers who spoke to them in English. The best thing I could do was provide a familiar face, speak to them in their languages, and blast Yolŋu music as I drove them around town. To help them relax and feel at home. To make no demands of them.
Because they're people. Not ethnographic curiosities. They have no responsibility to constantly provide education, enlightenment or entertainment.
I think back to my first visit to Yolŋu country with my wife in 1999. Two Aussies encouraged us to come. They told us they would connect us with Djalu' Gurruwiwi so we could learn about yiḏaki from him at his home in Arnhem Land. It only took one night of sleeping in a tent behind his sister's house before we began to feel that our presence was incredibly inappropriate. What if someone from another part of the world showed up at your door expecting to camp in your backyard for a couple of weeks? Expecting you to change your life to look after them, showing them around, teaching them how you live your life? It's absurd, but it happens in Yolŋu country all the time.
We weren't the first, but we were early in a long line of Djalu'-crashers and my old website about the trip undoubtedly inspired others to follow in our footsteps. In 2004, my first year living in Yirrkala, Djalu' and family barely had a week to themselves. Didgeridoo players from overseas would come and stay in tents for anything from a weekend to a couple of months. The sheer numbers and consistency were amazing to witness. The family of course allowed it and did their best to profit from it, but the constant stream of visitors was clearly draining. They later opted to work with a more professional tourism operation to control the numbers and guarantee an income stream for their time.
There's no huge point or dramatic conclusion to all of this. I'm simply sharing a few thoughts and reflections. I will post more later about the project Wukuṉ and Yinimala worked on here and try to get video someone else took of their "performance" to ceremonially open an event at the LA Consul-General's residence. For now, I'll share a few pictures from the only time I took out a camera to "document" my Yolŋu friends – as tourists at the Griffith Observatory.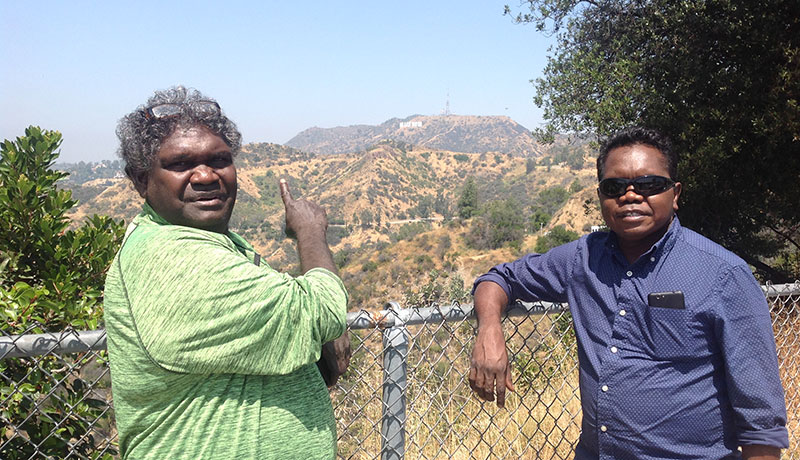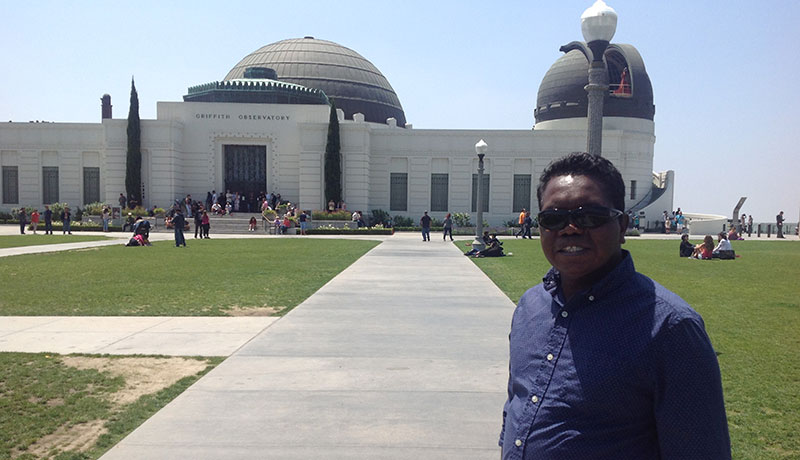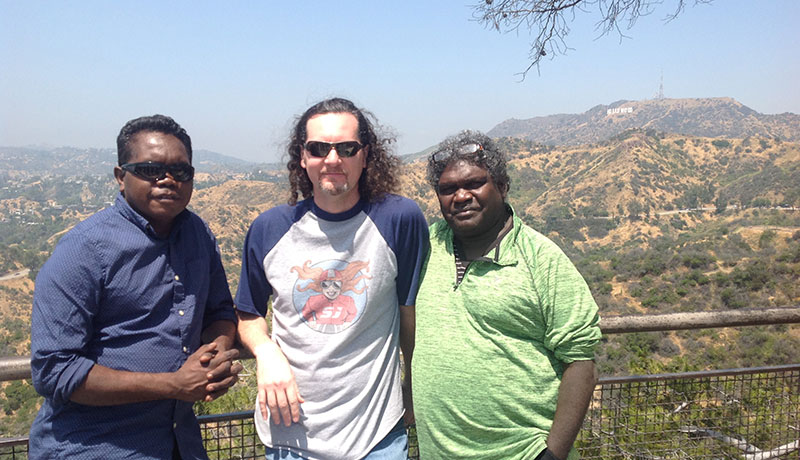 You can also see Wukuṉ's own heavily-filtered pics from the trip on his new Instagram profile and many by the folks who brought Wukuṉ & Yinimala here on the Kluge-Ruhe account.