How do Yolŋu feel about others teaching didjeridu?
Views about non-Yolŋu people teaching didjeridu are similar to those on playing. All Yolŋu involved in this project agree that it is fine for others to teach non-Aboriginal techniques used around the world to play the didjeridu. Yolŋu do not wish to hold a copyright on all forms of didjeridu playing. Anything non-Yolŋu have developed, non-Yolŋu can teach. It should again be stressed here that Yolŋu are not the only traditional owners of the didjeridu, and Yolŋu can only speak for their own traditional styles, not those of other neighbouring groups.
When it comes to Yolŋu styles of yidaki playing, Yolŋu always stress the importance of learning directly from them, and if possible, here at the source. If a non-Yolŋu person learns Yolŋu styles and songs, should they then teach these styles to others?
Some Yolŋu are very excited about others playing yidaki in their way, and want those who have learned from them to share what they can. Other Yolŋu believe that such experiences are private and should not be shared, that only Yolŋu can share their culture. A common opinion, as expressed by Burrŋupurrŋu Wunuŋmurra, is that if you have learned from Yolŋu and want to share your new knowledge and experiences for free with friends and family, that is fine. But once you start charging money for this knowledge, such as in lessons and workshops, you are stealing from Yolŋu. It is their knowledge to share and be compensated for, not yours. Proper arrangements must be made first. Clearly, whatever their views on others teaching, all Yolŋu involved in this project agree that if you want to learn about Yolŋu business, you should make every effort to learn directly from Yolŋu.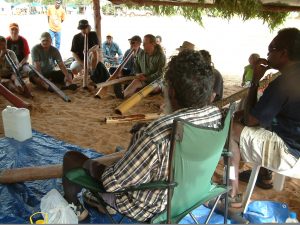 According to Yolŋu rom, knowledge is powerful and very expensive. This was true even before money was introduced to Arnhem Land. Donald Thomson, the first anthropologist to work with Yolŋu in this area, wrote a book about the economics of Yolŋu life. This included a story about his main Yolŋu translator and friend having to quit, as all the knowledge he had gained from other clans while working with Thomson already put him in too much debt. He would be making spears and other objects as payment for the rest of his life!
The best advice would be to not do anything that you weren't specifically told to do by Yolŋu, and again, to not do anything in your own country that you would be uncomfortable doing if Yolŋu were watching. That is simple integrity. If you learned from Yolŋu who told you to share it, do so. If you are intending to teach it to others as part of your business, you should make that very clear in your dealings with Yolŋu and make sure they are happy with any plans for compensation. Most Yolŋu do not have any idea what your life is like, and cannot guess what you are going to do when you leave. You cannot assume they understand you, or that it is all right to do what you want just because you weren't told otherwise. Also know that just because one or more Yolŋu told you that you could do something, that doesn't mean that all Yolŋu would approve. This has created arguments and ill will in the past.
If you never met Yolŋu and only learned from recordings, you haven't been gifted any knowledge at all and should visit Arnhem Land before engaging in any business involving performance, teaching, or otherwise transmitting Yolŋu knowledge.
Of course, it is understood that travel to Arnhem Land is not always possible for everyone. As Djalu' says above, the possibility is there for Yolŋu to travel to you. It is a difficult proposition to organize something so big, but a small organization headed by one didjeridu player in Japan has organized several trips and small tours to his country for Yolŋu performers and teachers. One didjeridu player in Iceland worked incredibly hard to get a trio of Yolŋu men all the way across the world. It is hard work, and expensive, but is worth it, and there are many Yolŋu who would love to come and meet you, given the opportunity. Just ask us!