Welcome by Djalu' Gurruwiwi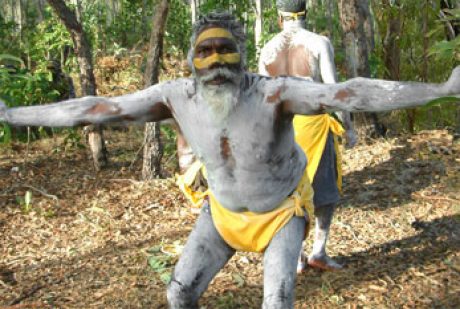 Listen to Djalu's introduction
"Ga belaŋ nhuma ŋarru maka-ŋupan, yolŋu banha ŋaya yaka bitjan gam' "gululu go banham maka-ŋupanda…" Dhaŋu bayma Australia ga be bala raypa budapthun overseas. Ŋay' nhumaliŋgum, yidaki munhdhurr, bitjan munhdhurr dhuka-boyan waripuwu. Manymak. Bili warrpam ŋäpakiwura gali'ŋa munhdhurrmin. Ga yolŋu gali'ŋa munhdhurr. Yapay, bilanya nhan yulŋum.

Ga banhayam lätjun, banha ŋaya yaka bitjana, "Gululu, go go, ŋaykaŋwarra ŋalaŋuramu." Bewali, bewala budap. Barrkuŋuru, ga gobay ŋaykaŋan dhambal nyiniyan. Yow, ga go nyelim ŋaykaŋ.

Warrpam goŋ-munhdhurrmin, buku-liw'yuman. Dhaŋum ŋäpakim warra bayatj waripum dhäruk. Ŋarru waŋgany ŋalma dhaŋu yulŋum. Waŋgany.

Ŋarru dhaŋum ŋanapu djäma banha ŋarru bitjana gam' dhaŋum djalkthuwan ga dhaŋum, ŋarru dhuka yuṯaguman. Ŋarru ŋäpaki warra gulŋiya. Yow, manymak."
To all of you who want to come to my land to learn, I say, "welcome, come to my land." From here in Australia and from overseas. Here, the didjeridu is a gift for all of you, a gift making the way for you. Okay. Because everyone on the non-Aboriginal side has gifts. And on the Yolŋu side, there's gifts. See, it's like that.
And that's beautiful. I say, "Welcome, come, come, from anywhere." From there, from across the seas. From far away, come and sit here. Yes, all of you come.
Everyone has gifts, all around. It doesn't matter that non-Aboriginals have different languages. Because we are all one. One.
If we work this way, not wasting, we will make a new path. And non-Aboriginals will join with us. Yes, this is good.