Who are the Yolŋu?
Click to hear
Yolŋu
pronounced.
Yolŋu are the indigenous inhabitants of roughly the northeastern third of Arnhem Land in the Northern Territory of Australia. Today, the majority of Yolŋu live in the communities of Milingimbi, Ramingining, Galiwin'ku, Gapuwiyak, and Yirrkala, and many others live at "outstations," which are smaller, more remote communities situated on important homelands belonging to different clans.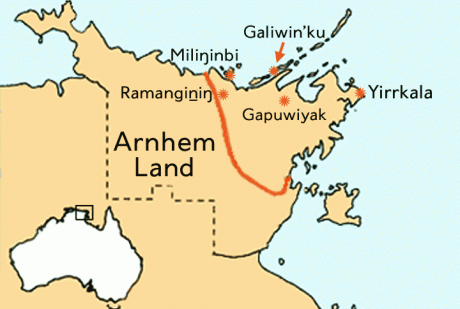 More than thirty different clans, each with their own language, make up the Yolŋu people. It is only since European contact that there has even been a need for one name to refer to all Yolŋu. Anthropologists came up with different names, but since the mid twentieth century, Yolŋu, which simply means 'Aboriginal Person' in the local languages, has become the accepted name for the people of the region.
The Yolŋu who participated in this website come from the Miwatj and Laynha areas, the far east or "sunrise side" of Yolŋu country, with the township of Yirrkala as the largest community supporting the approximately 25 outstations within a 250km radius. Clans represented are the Gälpu, Rirratjiŋu, Gumatj, Wangurri, Ḏäṯiwuy, Ŋaymil, Dhalwaŋu, Djapu, Dhudi-Djapu, Madarrpa, Maŋgalili, Munyuku, Marrakulu, Djarrwark, Golumala, Djambarrpuyŋu, Gupapuyŋu and Warramiri.
Sometimes the word Yolŋu is applied by Yolŋu to other Aboriginals from different areas, but these other Aboriginals do not use the word to describe themselves. It should be noted that there are well known didjeridu players and craftsmen from Arnhem Land who are not Yolŋu. One of the best known is the late David Blanasi, a Miali man who lived in Wugularr at the southwestern edge of Arnhem Land, spoke a totally different language that did not include the words Yolŋu or yidaki, and played the didjeridu in a very different style than the Yolŋu do.
Two words meaning "non-Yolŋu people" are used on this website. Balanda, derived from Hollander and introduced to Yolŋu by Indonesian traders hundreds of years ago, is best known and most widely used. Ŋäpaki is less commonly used, but at the time the videos on this site were filmed, was prevalent in the Miwatj, replacing Balanda which resembled the name of a recently deceased person. It is customary not to use the name, or words that sound like the name of a recently deceased person, sometimes for many years.
Some Yolŋu yidaki craftsmen, painters and players from the Miwatj and Laynha whom you may have heard of are listed below, with their clan affiliations. Links are provided for those who had biographies on Buku-Larrŋgay Mulka's old website.
Mirarra Burarrwaŋa (Gumatj) BIO
Dhapa Ganambarr (Ŋaymil)
Gunybi Ganambarr (Ŋaymil)
Litalita Ganambarr (Ḏäṯiwuy)
Ŋoŋu Ganambarr (Ḏäṯiwuy) BIO
Ḻirrpiritj Gondarra (Golumala) BIO
Yarrŋu Gondarra (Golumala) BIO
Djalu' Gurruwiwi (Gälpu) BIO
Badikupa Gurruwiwi (Gälpu) BIO
Watjuku Gurruwiwi (Gälpu) BIO
Larry Winiwini Gurruwiwi (Gälpu) BIO
Napuwarri Marawili (Madarrpa) BIO
Nuwandjali Marawili (Madarrpa)
Yikaki Maymuru (Maŋgalili) BIO
Barayuwa Munuŋgurr (Djapu)
Bibibak Munuŋgurr (Djapu) BIO
Djudawit Munuŋgurr (Djapu) BIO
Milkayŋu Munuŋgurr (deceased) (Djapu) BIO
Yali Milirrk Munuŋgurr (Djapu) BIO
Bandamul Munyarryun (Wangurri) BIO
Buwathay Munyarryun (Wangurri) BIO
Djakapurra Munyarryun (Wangurri) BIO
Gurraramawuy Munyarryun (deceased) (Wangurri) BIO
Malalakpuy Munyarryun (Wangurri) BIO
Mirrwatŋa Munyarryun (deceased) (Wangurri) BIO
Yaŋarryaŋarr Munyarryun (Wangurri) BIO
Marikuku Wirrpanda (Dhudi-Djapu) BIO
Burrŋupurrŋu Wunuŋmurra (Dhalwaŋu) BIO
Datjirri Wunuŋmurra (Dhalwaŋu) BIO
Napurrawuy Wunuŋmurra (Dhalwaŋu) BIO
Gamaṉarra Wunuŋmurra (Dhalwaŋu) BIO
Gapanbulu Yunupiŋu (Gumatj) BIO
Makuma Yunupiŋu (Gumatj)
Maḻŋay Yunupiŋu (Gumatj)
Nicky Ganbirr Yunupiŋu (deceased) (Gumatj) BIO
Yomunu Yunupiŋu (deceased) (Gumatj)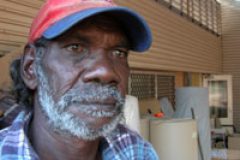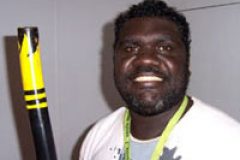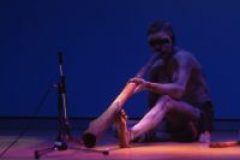 The above are all men. Some women who have gained reknown for crafting, and more often painting didjeridus are:
Milminyina Dhamarrandji (Djambarrpuyŋu) BIO
Dhäŋgal Gurruwiwi (deceased) (Gälpu)
Lena Djapilawuy Gurruwiwi (Gälpu)
Djul'djul Gurruwiwi (Gälpu) BIO
Judy Manany Gurruwiwi (Gälpu) BIO
Selma Räliny Gurruwiwi (Gälpu)
Zelda Balpiyaŋay Gurruwiwi (Gälpu)
Dhuwarrwarr Marika (Rirratjiŋu) BIO
Julie Djarpirr Munuŋgurr (Djapu)
Boliny Wanambi (deceased) (Marrakulu) BIO
Ralwurrandji Wanambi (Marrakulu)
Mulkun Wirrpanda (Dhudi-Djapu) BIO
Djakanŋu Yunupiŋu (Gumatj)
Dopiya Yunupiŋu (Gumatj)
Gayili Yunupiŋu (Gumatj)
Nyapanyapa Yunupiŋu (Gumatj)